WORKSHOPS
Come in and take one of our Workshops
NO WORKSHOPS IN-STORE & NO USE OF TABLE AT THIS TIME

We sure miss running our in-store workshops and know a lot of our customers are missing them too!
Presently, we are working on creating a number of online "At Home" workshop videos to purchase, to tie us over until we are safely able to restart teaching in person once again.
This format allows you to follow along with an experienced bead teacher in a step-by-step instructional video. Pause, rewind, stop for a break, whatever works for you. In the comfort of your own home, at your preferred time, at your own pace.
You will be sent a list of required materials that you can purchase in store, order online at countrybeads.com or use materials that you already have!
You will be sent a YouTube email, along with an additional email containing a PDF instruction sheet & $10 voucher code.
The video email is not automatic, your purchase will be processed and completed during store hours.
Each video will cover a different technique.
Please let us know if you are interested in a particular workshop technique and we can work on adding it to our list.
When:
Different instructional videos will be added online as they become available.
Purchase the video online and you will be emailed a link to watch it at a time that suits you.
Cost:
Each video has its own cost for instruction only. Materials are purchased separately which will be available in store, on-line or you can use your own.
See the At Home Workshops listing for specific costs.

No previous knowledge or experience needed.
Receive a $10 voucher code that can be used in store or online when you purchase a Workshops At Home video.
Mala Knotting – Available Now!
Description
Learn the traditional method of knotting for a soft, fluid and more secure piece of jewellery. Using semi-precious stones, wooden beads and knotting cord you will create a beautiful mala-style necklace. This technique can be used for knotting pearls as well.
Receive a $10 voucher code that can be used in store or online when you purchase a Project At Home video!
Time:
Allow 2.5 to 3 hours to complete your project
Experience:
Intermediate
Cost:
$10 +tax
Sweet Pea Necklace
Description
Create a precious necklace. Using tiny chain and wire wrapped ends to connect it all together. The perfect solution to finishing off a delicate chain that is both pretty and secure! Add a little stone pendant to complete the look!
Experience:
Advanced
Pearl Knotting
Description
Learn the elegant and traditional method of knotting for a soft, fluid and more secure piece of jewellery. Using silk thread, fresh water pearls and Gold Filled or Sterling Silver findings you will create a beautiful 16″ pearl knotted necklace.
Experience:
Beginner
Earrings 101
Description
This class is all about earrings. Covering the basics on different types of earwires using eyepins and headpins to make beautiful layered earrings and leave with a gorgeous ready-to-wear pair!
Experience:
Beginner
Semi-precious Stone Stretchy Bracelet
Description
Ever wonder why you are drawn to a specific stone? Are you curious about their healing properties? In this class you will spend time focusing on yourself, creating your personalized semi-precious stone stretchy bracelet. Discuss the different cord options and knotting techniques to finish your bracelet. Learn about various stones, their properties, benefits and add intention specific to your needs.
Experience:
Beginner
Macrame Bracelet
Description
Learn the art of macrame knotting. This is a great summer look whether your style is shiny crystal, rustic metals or natural wood + semi-precious stones. Using just cord and beads you will create your own macrame bracelet with a sliding knot closure. These timeless knotting techniques are easily adapted to numerous projects other than jewellery such as wall hangings and plant hangers!
Experience:
Beginner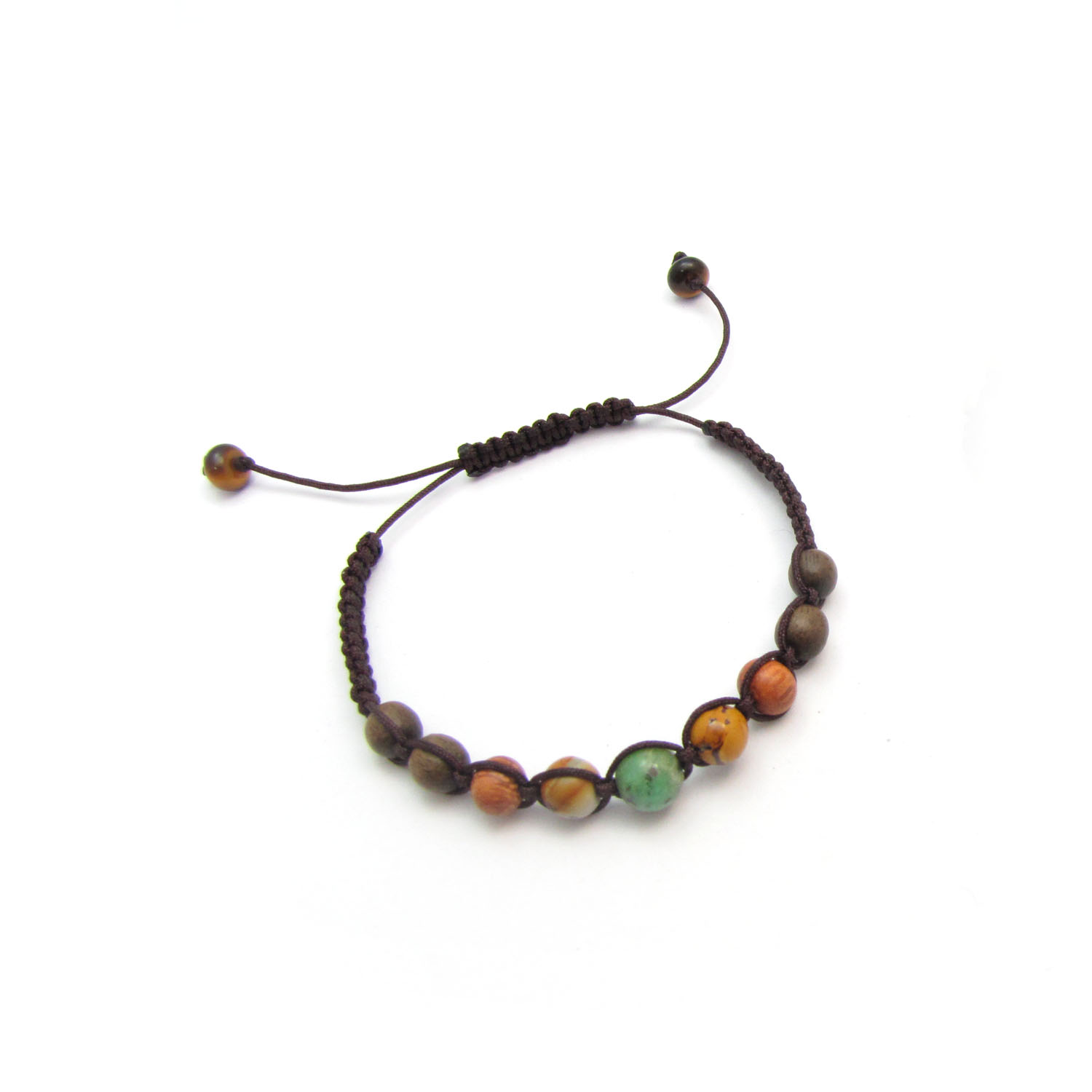 Beginners Beading
Description
Want to make your own jewellery? This is the place to start! We cover all the basics including tools, stringing material, findings and how to put it all together. In this class, you will leave with a completed 3 strand bracelet incorporating multiple techniques as well as confidence & inspiration for future creations.
Experience:
Beginner
Stone Wrapping
Description
Do you have stones with no holes? Want a way to incorporate found stones into your jewellery? This is the workshop for you! We will focus on using wire to create a clean, secure and stylish look. During this workshop you will have the opportunity to make 2 pendants with 2 different techniques using the stones provided. Leave with the knowledge and ability to make more! Feel free to bring in your own piece and brainstorm design options after the workshop.
Experience:
Intermediate
Peyote Ring
Description
Using our extensive selection of beautiful Japanese Miyuki Delica's, learn to weave these beads using the peyote stitch. We will discuss the use of grids, colours and bead finishes and how they can contribute in adding a personal touch to your design. As well as the many options for this versatile stitch. Experiment for yourself and finish with a personalized banded ring.
Experience:
Advanced